My Story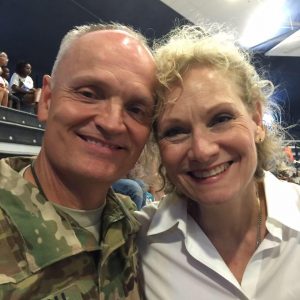 At a very young age, I remember cutting up an entire carton of cigarettes, Winston's.  My father was NOT a happy camper.  I do remember that both of my parents smoked…a lot.
I also remember my older sister's science fair project that fascinated me.  It was a wooden model of how the blood flows through the heart.  I played with it over and over.
I had applied to and was accepted to Saint John's School of Nursing in the ninth grade.  My plan was set.  Since that point, my life has been a pursuit of health management, first in critical situations at the hospital, then Home Health and Hospice and now, Nutrition.
Seeing the long term effects of chronic disease while working in home health was impetus for returning to school to get my degree in Holistic Nutrition.   While in school, my Mother was diagnosed with lung cancer and due to her advanced age, medical history and previous radiation therapy in the area, it was determined that she was not a candidate for Chemotherapy.  We did however find an alternative therapy that I believe, gave us much more quality time with her.
Trying to impress on people the knowledge to prevent cancer and chronic disease became even more important.  But life has its way of piling up on us.  After my Mom's death in 2009, I became very depressed.  Quit taking my thyroid medication, ate all the wrong foods, lost a lot of hair and my general health plummeted.
Still trying to get through school, depression and divorce, I continued to work at nutrition and home health.  But something changed in the summer of 2012, I fell and cracked several ribs.   That is never fun, but at 225 pounds I couldn't get out of bed without the help of my new husband or my sister.   With the help of God, my family and Ideal Protein, I have lost and kept off 60 pounds and gained awareness of what it really takes to change from the inside out.
Obesity is a drug, a hiding place, self- punishment, a fountain of disease, and now for me, and hopefully for you, it is a place to start.  An awakening of body and mind to the awareness and desire for health, come with me and our burdens will be lighter shared.
Lifestyle Changes are the Only Way to Ensure Your Excess Pounds Never Come Back…Put an End to Constant Dieting
Doxa Radiant Health is a company born of the idea that we can improve our health and take positive steps to decrease our own risk of chronic debilitating diseases. Through a variety of holistic nutrition programs, weight loss, body wraps, massages, personal trainers and health coaches, we will help you navigate your way through the maze of fad diets and the barrage of health and supplement information in the media every day.
Debra L. Crandall, RN graduated from the St. John's Hospital nursing school in 1976. Her class was the last to graduate from the school. It was also the end of a time when nursing was about people instead of process. Debi carried the lessons of hospital corners and back rubs with her into her career.
She worked in many areas of nursing, including Cardiac Critical Care, before settling into hospice and home health. Along the way she studied naturopathic medicine and nutrition. This venue and these fields, along with her allopathic background allows her to practice nursing that her teachers at St. John's would be proud of. Compassionate, personal involvement with the patient and their family is enhanced by education in nutrition, warning signs, and effective self-care. She knows that changing a wound dressing will not lead to full recovery without a holistic approach to health and the active, informed participation of the patient.
Debi has expanded her practice to include a weight loss clinic. After battling her own weight problem for years, her research led her to Ideal Protein. This program confirmed what she knew–that sugar is a major contributor to the biggest health problem in America: Obesity. Debi lost sixty pounds, gained health and vitality and is now helping others to do the same. Her honest desire to help people and her knowledge of health and nutrition are a perfect fit for this new addition to her nursing practice.*
Her company, Doxa Radiant Health, provides weight loss counseling and private nursing services, including medication management, body wraps, ear candling, and aromatherapy.
Education:
RN – 1976
Bachelor of Holistic Nutrition from Clayton College graduating with Highest Honors – 2010
Memberships:
National Association of Nutritional Professionals
National Association of Professional Women
---
Doxa Total Health is an independently owned and operated clinic/center authorized to promote and sell Ideal Protein® products and the Ideal Protein ® Weight Loss Method. Consult www.idealprotein.com for more information about the Ideal Protein ® Weight Loss Method and Ideal Protein ® products and services. Any express or implied statement herein that is not made by Ideal Protein itself or is otherwise inconsistent with or different from the express or implied statements contained in www.idealprotein.com materials, including regarding any benefit, performance or specific weight loss expected or achieved with the use of the Ideal Protein ® Weight Loss Method or Ideal Protein ® products or services is made solely by Doxa Total Health, and Ideal Protein specifically disclaims any and all such statements that are not explicitly or implicitly made in, or that are otherwise inconsistent with statements in www.idealprotein.com materials, and Ideal Protein explicitly disclaims any and all responsibility relating thereto.